Photos: photoblog-primates

---
Best of 2012 - Male crowned lemur in Madagascar


(12/09/2012) Crowned lemur in Madagascar. Photo by Rhett A. Butler

For the month of December, I'll be posting some of my favorite pictures from 2012. All of these photos were taken during the course of my reporting travels.

This is a male crowned lemur in Madagascar's Ankarana Special Reserve.

Continue reading: Best of 2012 - Male crowned lemur in Madagascar


---
Best of 2012 - Female black lemur in Madagascar


(12/04/2012) Female black lemur on Nosy Komba, an island off northern Madagascar. Photo by Rhett A. Butler

For the month of December, I'll be posting some of my favorite pictures from 2012. All of these photos were taken during the course of my reporting travels.

This is a Female black lemur on Nosy Komba, an island off northern Madagascar. Today black lemurs area big draw for tourists to visit Nosy Komba, which lies between the island tourist hub of Nosy Be and mainland Madagascar.

Continue reading: Best of 2012 - Female black lemur in Madagascar


---
Ankarana Sportive Lemur in Madagascar


(10/30/2012) Ankarana Sportive Lemur (Lepilemur ankaranensis) in Ankarana, Madagascar.

I just returned from 3+ weeks in Madagascar where I was looking into the illegal rosewood trade and other stories. I'll be posting a picture a day for the couple of weeks as a preview to the set that will eventually be online.

Continue reading: Ankarana Sportive Lemur in Madagascar


---
Blue Monkey on Mt Kenya


(09/17/2012) The blue monkey -- also known as Sykes' Monkey (Cercopithecus albogularis) -- on Mt Kenya.

The Kenyan government recently announced plans to build an electric fence around Mt. Kenya to discourage animals from venturing into farms and populated areas around Africa's second largest peat. Once completed the fence will be 400 km (250 miles) long and stand 2 meters (six-and-a-half feet) high.

Continue reading: Blue Monkey on Mt Kenya


---
Peeking macaque


(08/31/2010) Fruit stuffed in its mouth, this long-tailed macaque peeks at the photographer from a rooftop in Kalimantan, Indonesian Borneo. Photo by: Rhett A. Butler.

Continue reading: Peeking macaque


---
An acrobatic chacma baboon


(07/28/2010) We watched this wily gray-footed chacma baboon (Papio ursinus griseipes) for a good fifteen minutes as it posed for us in the Okavango Delta. Photo by: Tiffany Roufs, 2009.

Continue reading: An acrobatic chacma baboon


---
Infant crested black macaque


(07/20/2010) An infant crested black macaque (Macaca nigra). Photo by: Rhett A. Butler, 2010.

Endemic to the Indonesian island of Sulawesi, the crested black macaque is listed as Critically Endangered by the IUCN Red List. The primate is threatened by habitat loss and hunting for bushmeat.

Continue reading: Infant crested black macaque


---
"I want to work with orangutans till the day I die"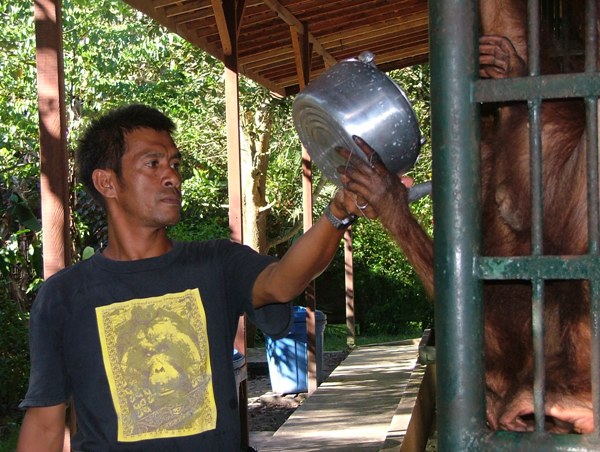 (06/30/2010) Pak Sia giving afternoon milk to some of his charges. Photo by Janie Dubman.

At nineteen years old, young Sia defied his father's wishes and began a job which he had wanted since elementary school. .

When Sia was 10 years old, Dr. Birute Mary Galdikas was already hiring Dayaks (natives of Borneo) for her Orangutan Research and Conservation Project in his home village of Pasir Panjang. Dr. Galdikas was Louis Leakey's third primatologist protégée, following the footsteps of Jane Goodall and Dian Fossey in studying wild great apes. The project's original research site was (and still is) in Camp Leakey, at the heart of Tanjung Putting National Park, southern Central Kalimantan (Indonesian Borneo). Sia started work in 1989, when the ORCP has already established three rehabilitation centres in the national park where orangutans, orphaned by illegal loggers and miners, were being nurtured and trained for return to the wild. It was at one of these Sia started his orangutan career as carer and rehabilitation assistant. That year, there were six young orangutans at Tanjung Harapan Station.

Today, forty-year-old Sia is responsible for over 300 orangutans as Feeding Coordinator of OFI's Orangutan Care Centre and Quarantine in Pasir Panjang. His tasks of finding fruit and vegetables to feed the apes, balancing the food budget and overseeing the three times a day feeding are no small peanuts. When asked about the challenges of his job, he frowned for a while, clearly trying to find an answer for me, since his initial response of "Oh, I love everything about my job" didn't satisfy me. Finally he nodded. "It's very sad for me when we can't give food to the orangutans on time. They get hungry like us and it isn't their fault they are in cages, it's people's fault, so we are the ones that must feed and help them".

In his twenty years with OFI Sia has helped orangutans in tanjung harapan as carer, in Camp Leakey as a forest research assistant, in Jakarta as a primate keeper in a zoo, and in the Care centre as all of the above and more. In fact, the father of three (soon to be four) children once proved his dedication when he informed his former wife that if she didn't like his work with the orangutans (which she resented), she would be the one doing the leaving.

Indonesians are a very clean people. It is not uncommon to wash four times on a hot day. I asked him to recount his first day at work for me and he animatedly described how he bathed once in the morning, and then became progressively covered in the urine and feces of his clinging charges. Smirking I remarked that he must have had some second thoughts by nightfall. He said that he didn't take a day off for the next three months because he couldn't bear to hear the babies crying when he tried to leave.

Sitting on a fruit crate across from the Dayak with the deceptively fierce face, I wrap up with asking him what he intends to do next in his life. He replied simply "Nothing. I want to work with orangutans till the day I die".

Continue reading: "I want to work with orangutans till the day I die"


---
Crazy-eyed capuchin monkey


(06/14/2010) Capuchin monkey in Suriname shows off. Photo by: Rhett A. Butler, 2008.

Continue reading: Crazy-eyed capuchin monkey


---
Common woolly monkey at rehabilitation center


(06/09/2010) A common woolly monkey at a rehabilitation center in Colombia for animals trafficked in the pet trade. Photo by: Rhett A. Butler, 2010.

The common woolly monkey (Lagothrix lagotricha) is listed as Vulnerable by the IUCN Red List due to habitat loss from agricultural expansion, including illegal crops like coca for cocaine production, and hunting. As evidenced from this photo the pet trade is also a problem.

Continue reading: Common woolly monkey at rehabilitation center


---
Empowering people by saving orangutans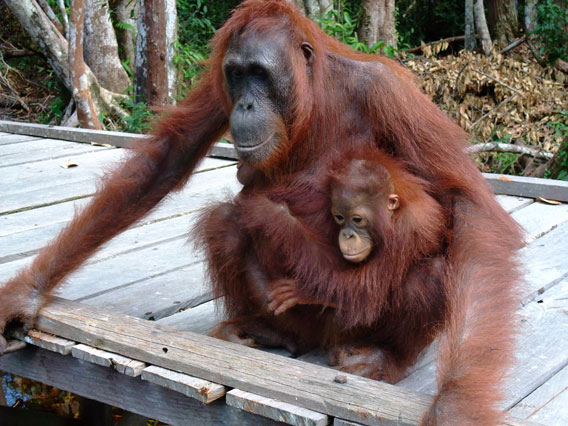 (06/06/2010) The lives of over 200 people have been linked to orangutans for 40 years. The people are biologists, firefighters, carpenters, veterinarians, drivers, artists and nurses. The orangutans are the only great apes in Asia, highly intelligent and highly endangered. The location is Borneo, Indonesia, and the mission is the save the orangutans from extinction. The leader is Dr. Birute Mary Galdikas.

Orangutan Foundation International has its beginnings in 1971, when a young Galdikas, a graduate student from L.A., came to study the poorly-known red apes of Borneo and Sumatra. She was anthropologist Dr. Louis Leakey's 'Last Trimate', his third protégée after Dr. Jane Goodall and Dr. Dian Fossey. Galdikas's project in Tanjung Puting National Park, South Borneo, quickly recognized the threat to the orangutans and became the Orangutan Research and Conservation Project (ORCP). At first, Galdikas, her first husband and a couple of local assistants collected data on orangutan sociality, diet, movement, behavior, and forest ecology at the Camp Leakey research station. Simultaneously, they rehabilitated the occasional confiscated and surrendered orangutan orphans into the surrounding forest.

Despite the swarms of malarial swamp mosquitoes, the long and exhausting orangutan follows, and the rice and sardines diet, for Galdikas those were the carefree days.

Slowly but surely, the illegal loggers grew in numbers and resources and moved into the national park. Palm oil plantations spread their monoculture green desert across much of coastal Borneo's biodiverse rainforests. The ORCP grew, hiring local Indonesians, valuable for their tracking, climbing and observation skills, as research and rehabilitation assistants, but also as forest patrols.

Continue reading: Empowering people by saving orangutans


---
Protected reserves essential for Congo Basin's megafauna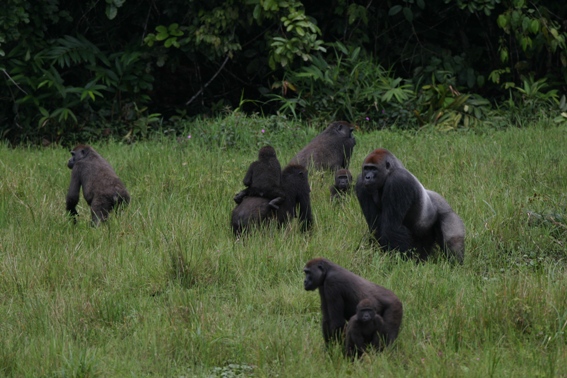 (05/11/2010) A group of western lowland gorillas in the Congo Basin. Photo courtesy of the Wildlife Conservation Society (WCS).

A new study in PLoS ONE shows that protected areas are essential for saving three key species in the Congo Basin: western lowland gorillas, chimpanzees, and forest elephants. The study finds that these species are particularly dependent on National Parks and strong anti-poaching efforts. Two of the species, gorillas and elephants, are found in logging concessions, but only if those concessions are adjacent to protected areas and also have strong anti-poaching measures.

Continue reading: Protected reserves essential for Congo Basin's megafauna


---
Baby silver leaf langur born at the Bronx Zoo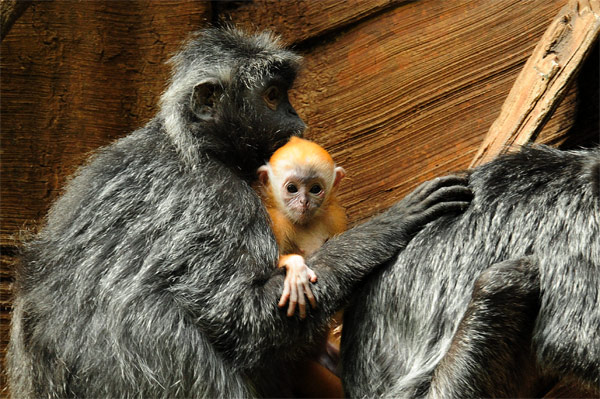 (04/26/2010) Silver leaf langur baby in the Bronx Zoo's JungleWorld exhibit. Photo by Julie Larsen Maher ©WCS.

The silver leaf langur baby has a striking orange color in comparison to its parents' silver coats and will continue to stand out until its fur changes color somewhere between three to five months of age. Its mother, Ruby, has kept her very close and has been caring for the new youngster in the trees of JungleWorld at WCS's Bronx Zoo making it difficult for keepers to determine the baby's sex.

Native to Brunei, Indonesia, and Malaysia, nearly 80 percent of the langur's diet consists of leaves. Silver leaf langurs are listed as "near threatened" by IUCN and are part of the Species Survival Program (SSP).

The Bronx Zoo has the largest captive breeding population of silver leaf langurs in North America. Less than 50 silver leaf langur have been born in captivity world wide.

Continue reading: Baby silver leaf langur born at the Bronx Zoo


---
Baby brown lemur born at the Bronx Zoo


(04/26/2010) aby brown collared lemur clinging to its mother's back in the Bronx Zoo's Madagascar! exhibit. Photo by Julie Larsen Maher ©WCS.

The Bronx Zoo has put a recently-born, female brown collared lemur on display at the Bronx Zoo's Madagascar! exhibit.

The baby lemur is has yet to be named and is the second born to her parents, Jean Luc and Vera. She is one of less than 50 brown collared lemur born in captivity world wide.

The brown collared lemur is listed as "vulnerable" by the International Union for Conservation of Nature (IUCN) due to habitat loss.

Continue reading: Baby brown lemur born at the Bronx Zoo


---
50 years after Jane Goodall's pioneering work with chimpanzees


(04/12/2010) A wild chimpanzee (Pan troglodytes) feeds on canopy fruit in Kanyanchu forest, Kibale Forest National Park in Uganada. Photo by: Rhett A. Butler, 2006.

Chimpanzees have become a globally symbol of the world conservation movement, largely due to the dedication and passion of Dr. Jane Goodall who has studied humankind's closest relative for decades. Now fifty years since Goodall's first steps onto Lake Tanganyika in what is now Tanzania's Gombe National Park, she has become one of the world's leading voices on conservation issues and the need for sustainability. Mongabay recently interviewed Dr. Jane Goodall about her recent book and her assessment of the state of biodiversity today.

Continue reading: 50 years after Jane Goodall's pioneering work with chimpanzees


---
Baby baboon


(04/07/2010) An infant Chacma Baboon (Papio ursinus) in Chobe National Park in the south African nation of Botswana. The baby baboon and his family played on the edge of the Chobe River and were photographed during a three hour river-boat ride where we saw elephants, hippos, African buffalo, and Nile crocodile. Photo by: Tiffany Roufs, 2009.

Continue reading: Baby baboon


---
Photo: The World's Smallest Monkey


(04/03/2010) The pygmy marmoset is the world's smallest monkey. Photo taken by Rhett A. Butler, March 2010 in Amacayacu National Park, Colombia, near the border with Peru.

Continue reading: Photo: The World's Smallest Monkey


---
Woolly monkey in Colombia


(03/30/2010) This woolly monkey is just one of some 30 species of Colombian primates. Photo by: Brodie Ferguson, 2006.

A new study in the open access journal Tropical Conservation Science looks at over a hundred years of research on Colombian primates and finds that the woolly monkey is one of the most thoroughly studied. However many Colombian primates have been neglected by researchers, for one reason or another, including a number of endangered species. The paper makes several recommendations, including more research, especially on those species on the edge of extinction.

Continue reading: Woolly monkey in Colombia


---
BBC special on the impact of palm oil expansion on orangutans


(02/22/2010) Tonight, the BBC's Panorama will broadcast a program looking closely at the palm oil issue and how it is affecting orangutans in Borneo.

Continue reading: BBC special on the impact of palm oil expansion on orangutans


---
How to stop the lemur slaughter in Madagascar


(02/10/2010) Coquerel's sifakas grooming in Madagascar. Photo by Rhett A. Butler 2010.

Madagascar is in the midst of an appalling logging crisis driven by greed and politics. Here's a proposal for solving the problem.

Continue reading: How to stop the lemur slaughter in Madagascar


---
Tiny mouse lemur


(01/22/2010) Gray Mouse Lemur (Microcebus murinus). Photo by Rhett A. Butler 2009.

New research supports the long-held belief that Madagascar's mammals populated the island by rafting on clumps of vegetation across the Mozambique channel. Most of Madagascar's native mammal families are capable of either flight (bats) or long periods of dormancy (lemurs, tenrecs, mongoose-like carnivores, and rodents) during which they lower their metabolism and/live of stored fat reserves. Madagascar's hippos, now extinct at the hands of man, were semi-aquatic and likely able to raft across the channel.

Continue reading: Tiny mouse lemur


---
Orang-utans and palm oil in Malaysian Borneo


(01/18/2010) The Malaysian palm oil industry has been broadly accused of contributing to the dramatic decline in orangutan populations in Sabah, a state in northern Borneo, over the past 30 years. The industry has staunchly denied these charges and responded with marketing campaigns claiming the opposite: that oil palm plantations can support and nourish the great red apes. The issue came to a head last October at the Orangutan Colloquium held in Kota Kinabalu.

Continue reading: Orang-utans and palm oil in Malaysian Borneo


---
A sad day for Madagascar: leadership moves to sell off forests


(01/12/2010) In what is being called an "awful" and "horrible" move for for one of the word's top conservation priorities, Madagascar's interim authority, which seized power during a military coup last year, will now allow rosewood illegally logged from national parks to be exported. The move is expected to trigger a spasm in new logging in the country's remaining rainforest reserves, especially in Masoala National Park. According to local sources, proceeds from the sales of timber will likely be used by Andry Rajoelina's government — which is deemed illegitimate by most of the world's countries — to campaign for upcoming elections.

Continue reading: A sad day for Madagascar: leadership moves to sell off forests


---
Approaching cyclone could worsen rosewood logging in Madagascar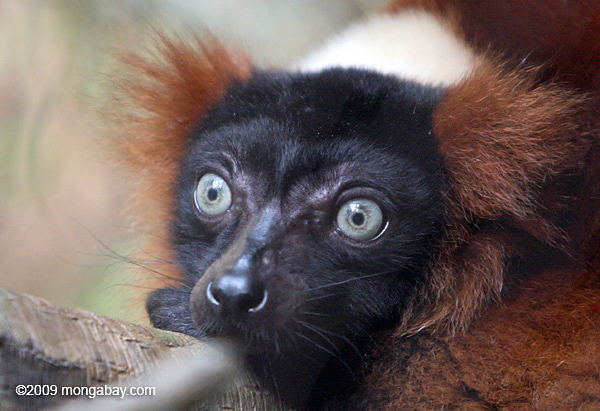 (01/09/2010) Cyclone Edzani is presently on course to hit Madagascar sometime late next week. The storm could bring devastation to Madagascar, which is already reeling from an economic crisis caused by a military coup in March. Previous cyclones, which hit Madagascar every few years on average, have caused extensive damage and loss of life.

Cyclones are also linked to rosewood logging. While harvesting of precious hardwoods for export has been prohibited for a decade, an exception has been made for "fallen trees" ostensibly knocked down by powerful cyclones. However in practice, this has created a loophole for illegal logging since the government has never conducted an inventory of downed trees following a cyclone. Timber traders can easily claim the logs they've harvested the result of storm damage (similar approaches are also employed by loggers in the United States and elsewhere). So should Cyclone Edzani come anywhere near rainforests that contain rosewood and ebony, expect an escalation in logging. Since national parks are about the only place where these valuable trees still stand, these biological jewels will be targeted.

Continue reading: Approaching cyclone could worsen rosewood logging in Madagascar


---
Orangutans at risk from bridge project in Indonesian Borneo


(01/05/2010) A substantial population of endangered orangutans could be at risk if a planned road and bridge project moves forward in East Kalimantan. The project would divide the mangroves of Balikpapan Bay from the Sungai Wain Protection forest and could open up the area to loggers.

Continue reading: Orangutans at risk from bridge project in Indonesian Borneo


---
'Tastiest' lemur is also one of the most important to the rainforest ecosystem


(01/04/2010) The Black-and-white ruffed lemur (Varecia variegata) lives in Madagascar's eastern rainforests. Surveys of village residents near Ranomafana National Park reveal that the Black-and-white ruffed lemur is the "tastiest" type of lemur. Patricia Wright, executive director of the Institute for the Conservation of Tropical Environments at Stony Brook University, says this is troubling because the black and white lemur may also be the most important seed disperser in Madagascar.

Continue reading: 'Tastiest' lemur is also one of the most important to the rainforest ecosystem


---
Black Howler Monkey in Belize


(12/20/2009) With males averaging 25 pounds and females 14 pounds, the Yucatan Black Howler (Alouatta pigra) is the largest of the howler monkey species and one of the largest of the New World Monkeys. It is found in Belize, Guatemala and Mexico.

Like all howlers, the Yucatan Black Howler is known for its raucous call, which is uses for communication in its low-visibility rainforest habitat. Howlers feed primarily on leaves and fruit and are arboreal by nature.

Continue reading: Black Howler Monkey in Belize


---
Baby gorilla


(12/11/2009) The baby gorilla was being treated for a cold at a rehabilitation facility on Evengue island, near Loango National Park. It was likely orphaned when its mother was killed for bushmeat.

Lowland gorillas are much more numerous than mountain gorillas but unlike their larger cousins, their populations are declining due to habitat destruction (mostly from logging), the bushmeat trade, and outbreaks of the ebola virus.

Continue reading: Baby gorilla


---
Dancing lemurs


(11/29/2009) Verreaux's sifaka from southern Madagascar is known as the dancing lemur for the way it moves across open ground.

Primarily a tree-dweller, sifakas are somewhat awkward on the ground due to their splayed feet. Since trees in their habitat are often dispersed, sifakas cross open ground by sashaying on their hind legs with arms aloft.

Beyond their ballet performances, sifakas are famous for their ability to leap from tree to tree in Madagascar's endemic spiny forest, where virtually every branch is covered with sharp thorns or spines.

Continue reading: Dancing lemurs


---


MONGABAY.COM
Mongabay.com seeks to raise interest in and appreciation of wild lands and wildlife, while examining the impact of emerging trends in climate, technology, economics, and finance on conservation and development (more)






WEEKLY NEWSLETTER


INTERACT


SUPPORT
Help support mongabay.com when you buy from Amazon.com using this link.



STORE

SHIRTS
HIGH RESOLUTION PHOTOS / PRINTS