Photos: photoblog-rainforest

---
Best of 2012 - Rainforest of Madagascar's Masoala Peninsula


(12/06/2012) Rainforest of Madagascar's Masoala Peninsula. Photo by Rhett A. Butler

For the month of December, I'll be posting some of my favorite pictures from 2012. All of these photos were taken during the course of my reporting travels.

Home to rainforests, coral reefs, and rich marine life in the Bay of Antongil, Madagascar's Masoala Peninsula is one of the most biodiverse places on earth. This picture shows a forest stream within Masoala National Park.

Continue reading: Best of 2012 - Rainforest of Madagascar's Masoala Peninsula


---
Best of 2012 - Borneo frog


(12/03/2012) Tree frog in Borneo. Photo by Rhett A. Butler

For the month of December, I'll be posting some of my favorite pictures from 2012. All of these photos were taken during the course of my reporting travels.

This is a tree frog I photographed in Danum Valley in Sabah, Malaysian Borneo. Does anyone recognize the species?

Continue reading: Best of 2012 - Borneo frog


---
Colombian cowboys on the move


(08/29/2010) Cowboys in Colombia herd cattle across a river in the Choco-Darien forests. Photo by: Rhett A. Butler, 2010.

Continue reading: Colombian cowboys on the move


---
Loggers' church


(08/18/2010) A Christian church in a logging camp in Guyana. Photo by: Jeremy Hance, 2008.

Continue reading: Loggers' church


---
Is this a forest?


(06/28/2010) Is this oil palm plantation a forest? According to the UN definition of forest it could be. Photo by: Rhett A. Butler, 2009.

Continue reading: Is this a forest?


---
Alaska's Tongass forest threatened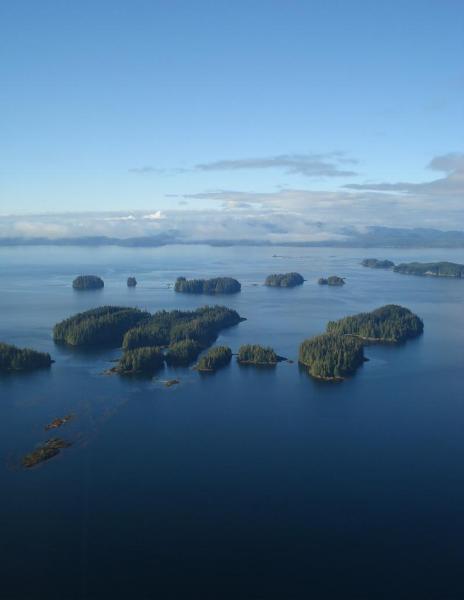 (06/21/2010) Outlying islands in Southeast Alaska. Photo by: Tyler Poelstra.

A quiet war is going on in Southeast Alaska. A bill in congress is promising to deliver 80,000 acres of prime temperate rainforest to Sealaska, a logging company owned by indigenous communities with a reputation for clear-cutting. However, local communities in Southeast Alaska say that the logging would devastate their economies—based largely on tourism and subsistence hunting and fishing in the forest—as well as threaten an ecologically unique area and two endangered animals. Locals have expressed deep frustration at being left out of the discussion by their representatives and contend that the lands chosen for logging have been picked arbitrarily with no regard for community or environmental concerns.

Continue reading: Alaska's Tongass forest threatened


---
Will Indonesia save its remaining forests?


(06/17/2010) Oil palm plantation with the rainforest of Gunung Leuser National Park in the background. Photo by: Rhett A. Butler, 2009.

With a one billion dollar fund from Norway, Indonesia is implementing a bold plan to drastically reduce deforestation as a part of its climate pledge, including a two-year moratorium on new concessions in forested areas and a REDD pilot project. However, the plan faces a number of big obstacles: entrenched corruption, a powerful forestry industry, lack of enforcement of environmental laws, and the simple scope of the problem.

Mongabay.com recently spoke with Agus Purnomo, head of the secretariat of Indonesia's National Climate Change Council, and his colleague Yani Saloh to find out how Indonesia plans to overcome these difficulties.

Continue reading: Will Indonesia save its remaining forests?


---
Activist organization halts logging in Papua New Guinea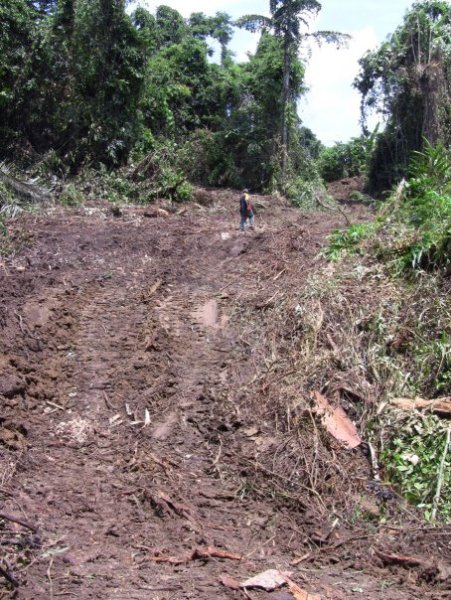 (06/08/2010) Forest destruction in Papua New Guinea by RH Ramu Logging in 2009. Photo courtesy of Ecological Internet.

Below the radar of larger environmental organizations, Ecological Internet has successfully campaigned on environmental issues around the world. From pressuring a palm oil company to drop plans to turn an entire Pacific island into a plantation to adding an international voice to protests against the illegal rosewood trade in Madagascar, Ecological Internet has built-up a reputation for tough international campaigns via the web.

Recently the organization, including its head Dr. Glen Barry, worked with local communities in Papua New Guinea to deem a logging project by run by Malaysian company, RH Ramu Logging, illegal.

Last week mongabay.com caught up with Glen Barry to discuss a wide-variety of topics including the origins of his activist organization, environmental issues in Papua New Guinea, systemic problems with the Forest Stewardship Council (FSC), and Barry's belief that a moratorium on old growth logging is necessary to stave off 'ecological collapse'.



Continue reading: Activist organization halts logging in Papua New Guinea


---
Big birds spreading seeds far and wide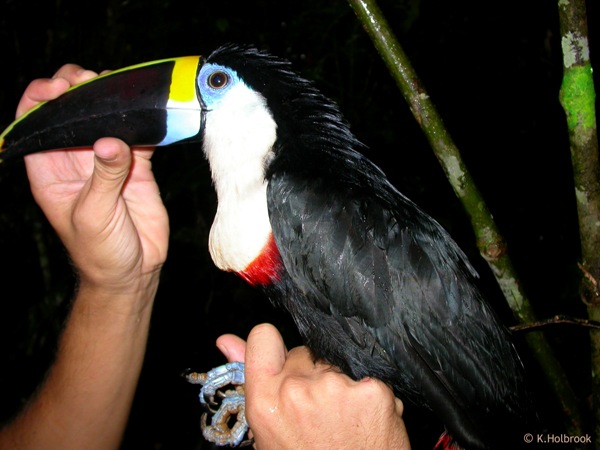 (06/01/2010) A white-throated toucan (Ramphastos tucanus) female captured in Ecuador. Photo by: Kimberly Holbrook.

New research shows that the toucans of South America and the hornbills of Asia and Africa are vital seed dispersers for tropical forests. Now known to be marathon fliers, these big fruit-eating birds are capable of bringing seeds to new areas, spreading genetic diversity and aiding burgeoning populations. Unfortunately deforestation and hunting has put these special species—as well as other seed dispersers—at risk.

Continue reading: Big birds spreading seeds far and wide


---
What? They plan to build a coal plant here?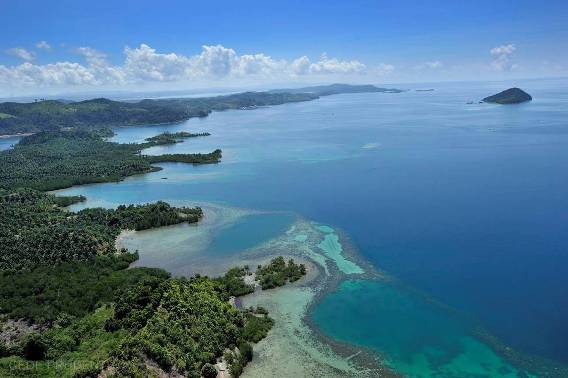 (05/30/2010) Malaysia plans to build a coal plant on the northern edge of Lahad Datu Bay in Sabah, Borneo. The plant will sit between a pristine rainforest, home to a number of endangered species, and the Coral Triangle, one of the world's most biodiverse marine ecosystems. Photo show Lahad Datu Bay. Photo by: Cede Prudente.

Local resistance to the coal plant has been fierce, forcing the plant to move twice before settling on paradisiacal Lahad Datu. However, a group of NGOs has come together to create an organization called Green SURF in an effort to stop the coal plant and encourage numerous renewable energy options instead.

Critics argue that sulfur emissions from the plant could trigger acid rain, while chlorine and sulfate waste dumped directly into the ocean will result in massive marine life die-off, affecting both the ecosystem and locals dependent on fishing. Brining pollution, waste, and greenhouse gas emissions, the plant could spoil Sabah's green image and harm its tourism industry.

To voice your opinion on the coal plant visit Green SURF. There are a number of campaigns, including a post card campaign, a petition, a Facebook group, and general information on Source Watch.

Continue reading: What? They plan to build a coal plant here?


---
Barefoot in the rainforest


(05/20/2010) A guide trekking barefoot in the rainforests of Gabon. Photo by: Rhett A. Butler, 2006.

To see more photos from Gabon: 2006 Trip to Gabon.



Continue reading: Barefoot in the rainforest


---
Architects of the forest: the great hornbill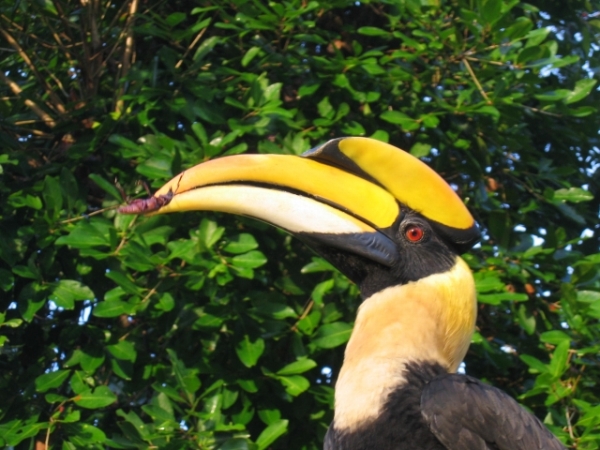 (04/27/2010) Asia's great hornbill Buceros bicornis. Photo by: Shumpei Kitamura.

Hornbills are big and beautiful birds, but they are also key species in Asia's fragmented rainforests. As long distance seed-dispersers, hornbills are able to connect tree populations from one fragmented forest to another. While hornbills are vital to rainforest diversity, they face a wide variety of threats including hunting for meat, forest loss, and the pet trade.

Continue reading: Architects of the forest: the great hornbill


---
Indonesian paper producer loses green credentials


(04/18/2010) The clear-flowing Bohorok River running through pristine rainforest in Gunung Leuser National Park on the island of Sumatra, Indonesia. Photo by: Rhett A. Butler, 2009.

Due to continuing destruction of Indonesia's rainforests and conflict with local communities, the Forest Stewardship Council (FSC) has decided to suspend its certification of the nation's second biggest paper producer, Asia Paper Resources International Limited (APRIL). Indonesia's largest paper-producer, Asia Pulp and Paper (APP), lost the FSC stamp in 2007.

Continue reading: Indonesian paper producer loses green credentials


---
Photo: The World's Smallest Monkey


(04/03/2010) The pygmy marmoset is the world's smallest monkey. Photo taken by Rhett A. Butler, March 2010 in Amacayacu National Park, Colombia, near the border with Peru.

Continue reading: Photo: The World's Smallest Monkey


---
Madagascar suspends timber exports and rainforest logging


(03/27/2010) Rainforest in Eastern Madagascar. Photo by: Rhett A. Butler, 2010.

Under mounting pressure over illegal logging of its national parks, Madagascar's transitional government last week reinstated a ban on rosewood logging and exports. The decree (no. 2010-141) prohibits all exports of rosewood and precious timber for two to five years.

Continue reading: Madagascar suspends timber exports and rainforest logging


---
The Anaconda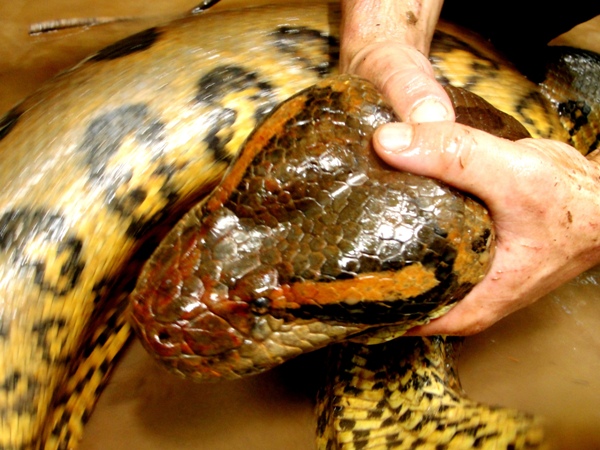 (03/11/2010) The stuff of myths, legends, and nightmare: the anaconda, according to Paul Rosolie, is even misunderstood by Amazonian tribes.

Continue reading: The Anaconda


---
The Importance of Seed Dispersers


(03/08/2010) Agoutis, such as this Central American agouti (Dasyprocta punctata) mother with babies, deserve a lot of respect. These large rainforest rodents are seed specialists and play a major role in dispersing seeds across the Americas' tropical forests.

Continue reading: The Importance of Seed Dispersers


---
Guyana bars gold mining from vast rainforest area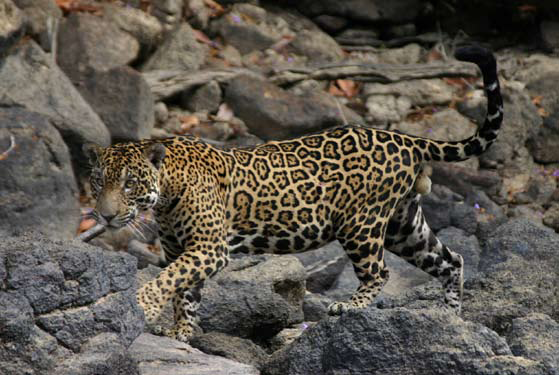 (03/01/2010) The jaguar Panthera onca is classified as Near Threatened: a previous six-week expedition to Rewa Head observed ten jaguars. Photo by: Ashley Holland and Gordon Duncan.

Continue reading: Guyana bars gold mining from vast rainforest area


---
Blueberry poison arrow frog


(02/27/2010) Blueberry poison arrow frog (Dendrobates pumilio) in Bocas de Toro, Panama. Photo by Rhett A. Butler, 2007.

This is just one of many color forms for Dendrobates pumilio. More commonly, this poison frog has red to orange coloration.

Continue reading: Blueberry poison arrow frog


---
Jungle cave


(02/24/2010) Entrance to St. Herman's Cave in Belize. Photo by Rhett A. Butler 2008.

Continue reading: Jungle cave


---
Lizard shadow


(02/23/2010) Anole in Las Cruces Biological Station, Costa Rica. Photo by Rhett A. Butler 2008.

Continue reading: Lizard shadow


---
Jungle pool in Belize


(02/06/2010) Clear pool near Actun Tunichil Muknal in Belize

Continue reading: Jungle pool in Belize


---
Avatar in real life - Malaysia facilitates resource plunder by destroying homes of indigenous people


(01/23/2010) Rights groups have condemned the destruction of more than two dozen homes in the indigenous Iban community of Sungai Sekabai, in the Malaysian state of Sarawak. Malaysian authorities are said to be preparing to level the rest of the village soon.

The demolition of the homes is a dramatic escalation of a dispute between the Iban and a timber company, which has claimed lands customarily used by the Iban. The company has cleared much of the forest around the community, replacing it with acacia plantations (visible in the pictures below). The logging has occurred despite a 2001 court ruling acknowledged that the Iban community had native customary rights over both their farmland and surrounding primary rainforests.

The Sarawak state government has long backed industrial interests over those of native peoples like the Penan and Iban, both investing in projects — including oil palm plantations, mines, hydroelectric projects, and logging operations — and sending in the military and police to crush local opposition. Its newest scheme is known as SCORE, a set of projects that will turn a large swathe of Sarawak into an industrial corridor for mining and energy development. SCORE includes at least four hydroelectric dams (up to 28,000MW of power), aluminum-smelting and steel plants, coal mines (1.46 billion metric tons), and natural gas development (nearly 41 billion cubic feet), according the state government, which is trying to attract investment at a time when investors (domestic and foreign) are fleeing Malaysia due to concerns over corruption and political unrest.

Continue reading: Avatar in real life - Malaysia facilitates resource plunder by destroying homes of indigenous people


---
Black, blue, and orange butterfly in the Amazon


(01/17/2010) The Blue transparent (Ithomia pellucida) in the Colombian Amazon outside of Leticia.

Continue reading: Black, blue, and orange butterfly in the Amazon


---
Scheme in Malaysia will destroy vast areas of rainforest


(01/13/2010) Malaysia and China have agreed to an $11 billion deal that will turn a vast area of Sarawak, a Malaysian state in northern Borneo, into an industrial corridor for mining and energy development, reports The Financial Times. The suite of projects includes at least four hydroelectric dams (up to 28,000MW of power), aluminum-smelting and steel plants, coal mines (1.46 billion metric tons), and natural gas development (nearly 41 billion cubic feet), according the state government.

Continue reading: Scheme in Malaysia will destroy vast areas of rainforest


---
A sad day for Madagascar: leadership moves to sell off forests


(01/12/2010) In what is being called an "awful" and "horrible" move for for one of the word's top conservation priorities, Madagascar's interim authority, which seized power during a military coup last year, will now allow rosewood illegally logged from national parks to be exported. The move is expected to trigger a spasm in new logging in the country's remaining rainforest reserves, especially in Masoala National Park. According to local sources, proceeds from the sales of timber will likely be used by Andry Rajoelina's government — which is deemed illegitimate by most of the world's countries — to campaign for upcoming elections.

Continue reading: A sad day for Madagascar: leadership moves to sell off forests


---
Orangutans at risk from bridge project in Indonesian Borneo


(01/05/2010) A substantial population of endangered orangutans could be at risk if a planned road and bridge project moves forward in East Kalimantan. The project would divide the mangroves of Balikpapan Bay from the Sungai Wain Protection forest and could open up the area to loggers.

Continue reading: Orangutans at risk from bridge project in Indonesian Borneo


---
'Tastiest' lemur is also one of the most important to the rainforest ecosystem


(01/04/2010) The Black-and-white ruffed lemur (Varecia variegata) lives in Madagascar's eastern rainforests. Surveys of village residents near Ranomafana National Park reveal that the Black-and-white ruffed lemur is the "tastiest" type of lemur. Patricia Wright, executive director of the Institute for the Conservation of Tropical Environments at Stony Brook University, says this is troubling because the black and white lemur may also be the most important seed disperser in Madagascar.

Continue reading: 'Tastiest' lemur is also one of the most important to the rainforest ecosystem


---
Honduran rainforest


(12/30/2009) Parque Nacional Pico Bonito is the largest protected area in Honduras after the Rio Platano Biosphere Reserve. Spanning over 7800 feet (2400 meters) in elevation and capped by the 7900-foot-high (2435 m) Pico Bonito, the park ranges from humid tropical broadleaf forest to high cloud forests. The park is perhaps the best place in Honduras to see endangered wildlife and is well known for its spectacular waterfalls.

Continue reading: Honduran rainforest


---
Eye-gouging tree frog


(12/28/2009) The Gladiator tree frog (Hyla rosenbergi) is named for the fighting behavior of males. The Male Gladiator tree frog has a bony spine (an "unsheathed prepollex spine") on each hand which is used in fights over females and nests. Fighting frogs aim to gouge out their opponents' eyes and puncture their eardrums. Frogs are often maimed or killed in the duels.

Continue reading: Eye-gouging tree frog


---
Black Howler Monkey in Belize


(12/20/2009) With males averaging 25 pounds and females 14 pounds, the Yucatan Black Howler (Alouatta pigra) is the largest of the howler monkey species and one of the largest of the New World Monkeys. It is found in Belize, Guatemala and Mexico.

Like all howlers, the Yucatan Black Howler is known for its raucous call, which is uses for communication in its low-visibility rainforest habitat. Howlers feed primarily on leaves and fruit and are arboreal by nature.

Continue reading: Black Howler Monkey in Belize


---
Giant rainforest tree in Sumatra


(12/17/2009) In recognition of the progress made on REDD — a scheme to protect rainforests — at climate talks in Copenhagen, this is a profile of a critical family of rainforest tree: Dipterocarpaceae.

Dipterocarps are the dominant family of canopy trees in Southeast Asia, but nowhere is their ecological role more pronounced than in Borneo.

Continue reading: Giant rainforest tree in Sumatra


---
Turquoise and green chameleon


(12/16/2009) Major banks and shipping companies are facilitating the destruction of Madagascar's species-rich rainforests, but ultimately it is consumers in China, the United States, and China who are driving the illicit trade in precious hardwoods.

Continue reading: Turquoise and green chameleon


---
Primary rainforest in Uganda


(12/09/2009) Destruction of old-growth or primary forests looms large in discussions in Copenhagen over a scheme to compensate tropical countries for reducing emissions from deforestation and degradation (REDD). Some environmental groups are pressing for conservation of old-growth forests — the most carbon-dense, and biologically-rich state of forests — to be the centerpiece of REDD, while industry and other actors are pushing for "sustainable forest management" or logging using reduced-impact techniques to be the primary focus of REDD.

While most of the focus on deforestation is on tropical countries (which are the ones that will benefit most from REDD) several prominent rich countries don't bother to report loss of primary forests, including Canada and Australia. Canada is estimated to lose more than 50,000 hectares of forest area to clear-cutting, while other areas are affected by selective logging, which is usually categorized as sustainable forest management. Destruction of Tasmania's old-growth forests for industrial plantations doesn't show up anywhere in official statistics.

Continue reading: Primary rainforest in Uganda


---
A beautiful moth


(12/06/2009) I have no idea of the identity of this species of moth, but it made an impression when I came across it in Las Cruces, Costa Rica in 2008.

Continue reading: A beautiful moth


---
Angel Falls in Venezuela


(12/05/2009) Angel Falls is the world's highest waterfall, at 979 m (3,212 ft) high. It is located in Southern Venezuela in Canaima National Park.

Southern Venezuela is currently experiencing a gold rush that it pitting members of indigenous groups against one another, polluting rivers, and driving wildlife poaching.

Continue reading: Angel Falls in Venezuela


---
Coming face-to-face with what may be the last of a species, the Bornean rhino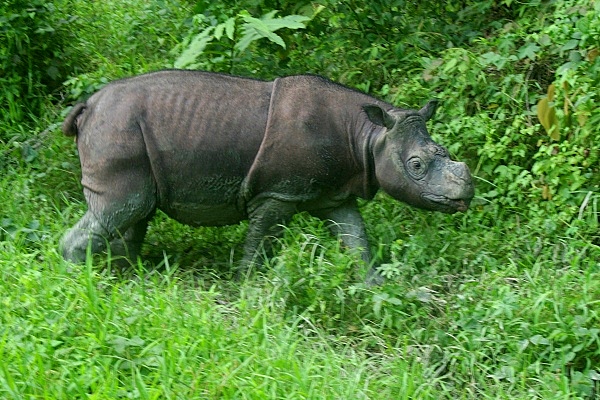 (12/03/2009) Nothing can really prepare a person for coming face-to-face with what may be the last of a species.

I had known for a week that I would be fortunate enough to meet Tam. I'd heard stories of his gentle demeanor, discussed his current situation with experts, and read everything I could find about this surprising individual. But still, walking up to the pen where Tam stood contentedly pulling leaves from the hands of a local ranger, hearing him snort and whistle, watching as he rattled the bars with his blunted horn, I felt like I was walking into a place I wasn't meant to be. As though I was treading on his, Tam's space: entering into a cool deep forest where mud wallows and shadows still linger. This was Tam's world; or at least it should be.

Continue reading: Coming face-to-face with what may be the last of a species, the Bornean rhino


---
Tropical Rainforest in Madagascar


(12/02/2009) While Madagascar's forests have been greatly reduced in extent as a result of generations of clearing for subsistence agriculture (primarily rice and pasture for zebu cattle), the ones that remain support astounding levels of biodiversity. But Madagascar's most diverse forests have been ravaged this year by loggers exploiting precious hardwoods that will be eventually be sold to consumers in rich countries, primarily in Europe and the United States.

Continue reading: Tropical Rainforest in Madagascar


---
Shaman in the Amazon rainforest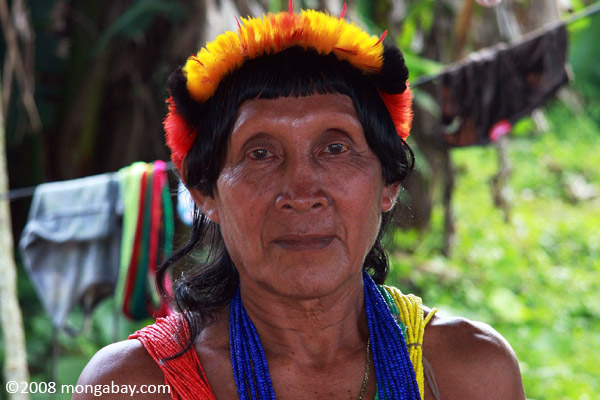 (11/30/2009) Much of the Amazon rainforest remains occupied by tribal groups. While few of these live as conjured in the imagination, the state of the forests in their territories is a testament to their approach to managing lands. But like the Amazon itself, these groups face new pressures from the outside world. For the indigenous, the lure of urban culture is strong—cities seem to offer the promise of affluence and the conveniences of an easy life. But in leaving their forest homes indigenous peoples are usually met with a stark reality: the skills that serve them so well in the forest don't translate well to an urban setting. The odds are stacked against them; they arrive near the bottom of the social ladder, often not proficient in the language and customs of city dwellers. The lucky ones may find work in factories or as day laborers and security guards, but many eventually return to the countryside. Some re-integrate into their villages, others return in a completely different capacity than when they departed. They may join the ranks of miners and loggers who trespass on indigenous lands, ferreting out deals that pit members of the same tribe against each other in order to exploit the resources they steward. As tribes are fragmented, and forests fall, indigenous culture—and the profound knowledge contained within—is lost. The world is left a poorer place, culturally and biologically.

Continue reading: Shaman in the Amazon rainforest


---
Soy in the Amazon


(11/28/2009) Soy and Amazon forest in Mato Grosso, Brazil. Since 1988 Mato Grosso has lost more forest than any state in Brazil: 133,352 square kilometers, or more than 35 percent of Amazon clearing.

Mato Grosso's forests have been logged for timber and then primarily converted into cattle pasture — the state has some 26 million head of cattle across 24 million hectares of pasture. Extensive areas have also been planted with mechanized soy farms, as seen in the picture above.

Continue reading: Soy in the Amazon


---


MONGABAY.COM
Mongabay.com seeks to raise interest in and appreciation of wild lands and wildlife, while examining the impact of emerging trends in climate, technology, economics, and finance on conservation and development (more)






WEEKLY NEWSLETTER


INTERACT


SUPPORT
Help support mongabay.com when you buy from Amazon.com using this link.



STORE

SHIRTS
HIGH RESOLUTION PHOTOS / PRINTS